We identify
Every indication is unique. We identify all the relevant information needed to keep teams up to date on the newest disease progressions and care realities.
We aggregate
We break down silos and combine claims-, prescription & sales-, public voice-, registry-, scientific & approval-, and our very own proprietary patient-generated data.
We structure
Every insight is accessible. We ensure our dashboards have an intuitive structure which removes complexity and provides actionable insights at a glance.
Unlock the potential of
real-world insights

with Permea.
Get real-world answers to your most relevant questions with an unprecedented level of detail. The Permea Monitor offers healthcare stakeholders actionable insights from various data sources in one intuitive solution.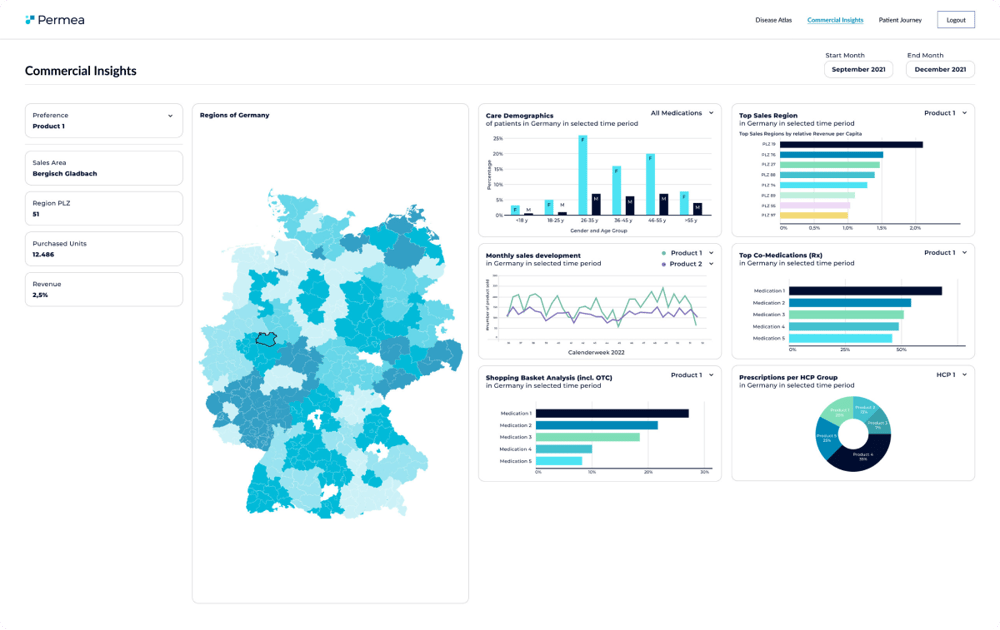 Intuitive & insightful interface
Permea is a highly intuitive evidence-based solution, which allows you to gain new knowledge to an unprecedented level of detail without needing a data processing or statistical analysis background.
Fully integrated & customizable
Permea is custom-made for each indication and is easily accessible through a browser-based platform to enable analyses on the data - which can include your own.
Made & hosted in Germany
Permea is fully GDPR compliant with elaborate technical, ethical and legal frameworks in place to safely and efficiently aggregate vast quantities of data from diverse sources - all, anonymised & aggregated within regulatory-grade data-protection standards.
Disease Atlas Monitor
Identify unmet treatment needs based on care realities
Permea offers medically sound, actionable health insights addressing every step of the value chain in the life science industry in the form of intuitive pre-researched and populated dashboards.
Uncover treatment patterns & opportunities
Map out representative patient cohorts based on disease and treatment patterns. Identify attractive unmet treatment needs based on care realities.
Maximise your commercial success
Identify underserved areas to steer sales force. Determine and map out prescribing HCP groups to tailor and optimise your communications.
Generate a holistic understanding
Analyse regional prevalence of specific indications. Detect correlations between subscribed medications and co-morbidities to guide product development.
Commercial Insights Monitor
Maximise your market share with Commercial insights
This monitor presents market realities, using advanced data enrichment methodologies tailored for your specific needs and questions, to ensure sales teams can be steered efficiently and marketing can communicate effectively.
Generate meaningful insights
Better understand your consumer and physician base. Determine key factors of your target audience.
Understand the real market share
Identify and analyse key metrics for product performance, patient eligibility, prescribing behaviours and competitive share.
Gain a competitive advantage
Stay ahead of your competition by identifying key decision makers that are essential for driving therapy adoption.
Optimise patient communication
Optimise patient engagement and communication by tailoring your product candidate to meet your patients' needs & preferences. Develop successful accompanying marketing campaigns.
Patient Journey Monitor
Uncover your patients' journey with Permea
This monitor provides a 360° patient view through real-world patient journey data. Giving you the ability to identify perceptions and actions to address (in)compliance, abandonment & therapy switches.
Listen to what your patients are really saying
Identify patient preferences, needs, and expectations of given indications by using Permea's ethical, consensual and responsible social listening and natural language processing methods.
Optimise budget allocation for marketing campaigns
Tailor targeted patient engagement campaigns and relevant communications based on identified reasons for in-compliance, abandonment & switches.
Improve therapy adherence and brand performance
Listen to what your patients are saying about your brand and experience with competitor drugs and identify the reasons for treatment switches.
Identify previously unknown insights
Obtain actionable insights, such as which topics and stakeholders influence your patients' decision journey.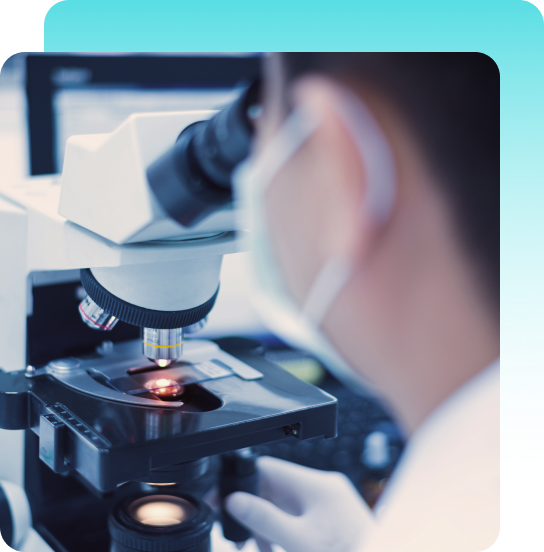 "I am impressed with the analytical capabilities of the Permea platform. By incorporating its many insights and perspectives into our decision-making processes, we have achieved a significant transformation. With Permea, we gain comprehensive insights into trends, behaviors, and specific needs related to women's health, enabling us to make informed business decisions."

Claudine Petit, Lead Data & Digital Strategy DACH
"Permea helped us to understand the real-world needs of our patients, providing us with the opportunity to listen to what they have to say and take their opinions into consideration."
Dr. Tanja Hüther, Marketing Manager
Your advantages in one glance
Commercial & Medical

Research & Development

Approval & Market Access
Drive your product strategy with actionable insights
Gain a 360° patient view, drive therapy adoption and ensure therapy adherance. Optimise your commercial strategy and gain a competitive advantage with the Permea Monitor.